"At JW Wellness Yoga & Pilates School, we provide Foundation & Alignment-based programs with anatomical understanding on Yoga asanas and Pilates exercises ranging from Basic to Advanced level. We strongly believe that Yoga & Pilates is a perfect marriage to one another. We also organise Yoga & Healing retreats on a yearly basis for emotional & spiritual growth Namaste..."
Trainer Biodata - James Wong
His 200 & 300 hours Yoga Teachers trainings emphasizes a lot of breaths and inner core muscles engagements (bandhas) which will allow us to experience a yoga pose in a much lighter and tension free on other muscle groups. He is a ERYT500 Certified US Yoga Alliance teacher & trainer. James is fun loving, gentle but can also be dynamic in his yoga classes; accompanied with his creative sequencing and good coaching skills. His classes emphasizes a lot of foundational and functional anatomy aspects of yoga which he adopts his teachings from various yoga backgrounds.
He has been running his own Yoga & Pilates School (JW Wellness Yoga & Pilates School @ Affiliated with US Yoga Alliance) for almost 7 years now, where he conducts Yoga Alliance Teachers Training & Pilates Teachers Training across the country and neighbouring countries such as Indonesia, Vietnam and Thailand. He also conducts Yoga Anatomy workshops and Postural Analysis courses across the country and neighbouring countries as well. His 200 Hours & 300 Hours Yoga Teachers Training combines learning aspects from emotional to physical to spirituality where he brings in the Internal Alignment of the human soul into their yoga practice and how each and every individual one of us are designed differently for a different purpose in this life. His years of learning and adopting into his own signature in his school.
His techniques of teaching combines Manual Therapy into his yoga methodology which massively covers on the importance of spinal mobility (his signature Spinal Roll™, correct movements of the joints along with the essences of Dynamic Neuroscience of the body and how the motor control functions of the spine allows the scapula to mobilize and hips mobilization; combined with his special techniques in Myofascia Trigger Point Movement Release Therapy. Trigger point therapy is one of the topics in the module training for 200-Hours Yoga Teacher Training. In his training, he also emphasize a lot on the well-being of his teachers physical body alignment; their fascia adhesion in their body, postural assessment and alignment to study how their body are affected in certain yoga poses and how they can improve their yoga poses by understanding their body posture, awareness and alignment.
For the past years, he have been watching the worldwide birth, growth and sequential rapid spread of yoga in the air with fascination – how all these started from the Western influence. His work has outgrown to attracting students from all over the world to come join his courses in Malaysia. His stories has inspired many students across the globe and he intently teaches the correct Internal Alignment of the soul and yoga in us and Not about chasing after a yoga pose which most are drown into. Yoga is in us and is a teaching that is more than an asana; it explains our deepest content and emotions where maybe some of us could be lacking of in some areas. Yoga helps fill that up. James wishes to guide the light to his disciples to light to correct internal alignment.
As an international marked level recognized by Yoga Alliance from USA- all his teaching methodology are approved by Yoga Alliance not to mention his 200 Hours Yoga Teachers Training and his school is a YACEP(continue education provider syllabus). He conducts Anatomy and Postural Analysis workshops to yoga and pilates teachers for their upgrade learning.
James' passion and teaching methodology continues to inspire many out there and his work has been highly regarded by Doctors, Chiropractors and Physiotherapist as well. His work has been highly regarded in India where he has combined his methodology of yoga and pilates to Dr.Ravin's medical research team.
Success did not just come overnight for James, but through his hardship as a teenager from his dance background till studying ways to heal his physical body through different types of modality; burning the midnight oil to write his articles and books for teachers training, travelling around the globe to conduct workshops and trainings. Namaste.
Kindly email him jwwellnesslifestyle2020@gmail.com for more information on his courses. Or whatsapp him at +60124211979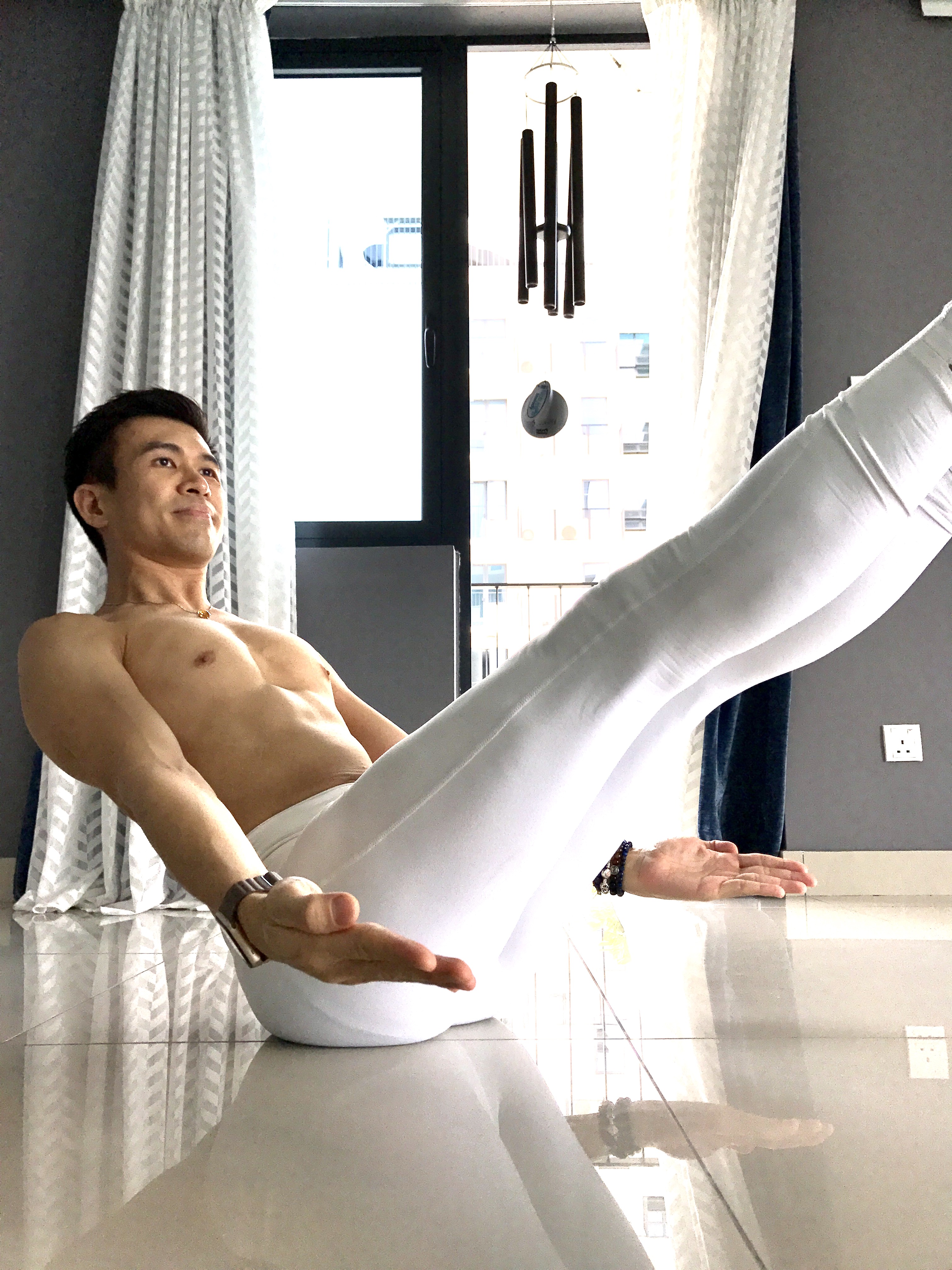 Pilates is becoming one of the most popular exercise systems in the country.
It seems like everyone is either doing Pilates, or interested in starting a Pilates exercise program. Indeed, one of the best things about the Pilates method is that it works so well for a wide range of people.
Pilates is Whole-Body Fitness
Unlike some forms of exercise, Pilates does not over-develop some parts of the body and neglect others. While Pilates training focuses on core strength, it trains the body as an integrated whole. Pilates workouts promote strength and balanced muscle development as well as flexibility and increased range of motion for the joints.
Attention to core support and full-body fitness -- including the breath and the mind -- provide a level of integrative fitness that is hard to find elsewhere.
Pilates is an Adaptable Method
Modification is the key to Pilates exercise success with a variety of populations. All exercises are developed with modifications that can make a workout safe and challenging for a person at any level.
Core Strength
Core strength is the foundation of Pilates exercise. The core muscles are the deep, internal muscles of the abdomen and back. When the core muscles are strong and doing their job, as they are trained to do in Pilates, they work in tandem with the more superficial muscles of the trunk to support the spine and movement.
As you develop your core strength you develop stability throughout your entire torso. This is one of the ways Pilates helps people overcome back pain. As the trunk is properly stabilized, pressure on the back is relieved and the body is able to move freely and efficiently.
The Six Pilates Principles: Breath, Centering, Control, Flow, Precision, and Concentration:
These six Pilates principles are essential ingredients in a high quality Pilates workout. The Pilates method has always emphasized quality over quantity, and you will find that, unlike many systems of exercise, Pilate's exercises do not include a lot of repetitions for each move. Instead, doing each exercise fully, with precision, yields significant results in a shorter time than one would ever imagine.
Pilates is a Unique Method of Exercise.
Core strength and torso stability, along with the six Pilates principles, set the Pilates method apart from many other types of exercise. Weight lifting, for example, can put a lot of attention on arm or leg strength without attending much to the fact that those parts are connected to the rest of the body! Even running or swimming can seem like all arms and legs, with either a floppy or overly tense core. Ultimately those who really succeed at their sport learn to use their core muscles, but in Pilates this integrative approach is learned from the beginning.
Pilates and its history
Pilates was designed by Joseph Pilates, a gymnast born in Germany who immigrated to New York in the 1920's. He studied a range of activities like Yoga, body building, gymnastics, boxing, self- movement defence, Zen ,circus performance even of animals. All this led him to devise a revolutionary way of exercising which became known as the Pilates method.
Joseph Pilates was so impressive with his development of this new regime that he found fame with New York's celebrities, particularly actors and dancers. His work has been researched and validated and is now a world recognised and widely enjoyed way of working out.
Many have asked which one is my favourite- yoga or pilates ? Well I train and teach both ! So I will say I love both modalities!
First and foremost, I see the great benefits & strength both yoga & pilates complements to one another.
I started yoga & pilates pretty the same time, for therapeutic purposes for my back injuries and scoliosis and pilates has certainly built a lot of my strength conditioning to my yoga practices. Without the slightest doubt that the yoga heat is more huge than the pilates due to the different variations on yoga poses as compared to pilates systematic, structured exercises which may seem the same old thing each time.
I have had students claimed that yoga is more fun than pilates as they get more different types of movements and pilates are purely spinal mobility & core stability & pretty similar exercises(I am talking about the pure Pilates & not those aerobics pilates style which some instructors are teaching). And I have students who totally dont see the importance of pilates cause they said its core work! Did you guys realised my "spinal roll" in yoga classes was adopted from "spinal articulation" from pilates? See..there you go! I incorporated the benefits of pilates in yoga without those yogis realising it. Well, as far as I am concerned, I love pilates as much as yoga cause I see them as 2 totally different thing and I never get bored of Pilates even though it is the same Pilates 100s, the same Roll Ups, the same Side Bend series etc, the same exercises makes the body remember just like Asthanga(Practice 99% Theory 1%).. where the body is programmed to proprioceptive remember!
So here is a comparison I came out with....
Part scientist, part mechanical genius, and part anatomist, Joseph Pilates paired his method with a variety of equipment that he referred to as "apparatus." Yoga in the West has also recently adopted the practice of using equipment such as straps, blocks, bolsters, and eye pillows. While it's possible that Pilates may in some ways inspire yoga, yoga certainly inspired Pilates. Pilates himself studied yoga, and his writing indicates that it was his intention to unify mind, body, and spirit, and as a result, many of the benefits of the two technologies are similar.
Both Pilates and Yoga offer stress-relief, flexibility, strength, control, and endurance. The biggest difference between the two is the emphasis on the spiritual component in classes. Outside of Yoga-laties, most Pilates classes don't offer an obvious spiritual experience, however, Pilates may be a great starting point or compliment for a yoga practice. The slower pace of a Pilates class can be meditative and stress relieving as well.
Pilates: Pilates classes focus on strength, muscle toning, body control, and flexibility, with the main emphasis being core strength. Pilates is a disciplined practice that needs to be done on a regular basis to provide benefit. If you like a more structured workout without chanting, OMing, or complex postures, this could be the workout for you.
Yoga: On the other hand, yoga focuses on flexibility and broad muscle groups. It offers balance, endurance, strength, spirituality, and some really physical movement. Classes can range from gentle and nourishing to challenging and sweaty.
The PERFECT COMBO of BOTH
The question remains—should you practice yoga or Pilates? Why choose a practice when you can have the benefit of both? Although I practice yoga almost every day, I also incorporate 5-6 Pilates sessions into my workouts each week. I enjoy the flexibility, freedom, and challenge of yoga, as well as the attention to detailed stabilisation and core control (our yoga so-called Bandhas) that Pilates provides.